Bet you are asking… What's a Serpopard?
I didn't know myself until about a month ago.  I was getting a bit of a head start on my final 3D Studio project by googling "mythological creatures" as we had to do a large sculpture – had to be four-legged and a "real" creature from any culture's mythology.
I was looking for something unusual that would fit the parameters and a Serpopard or Serppard image came up in a search.  I thought that was pretty interesting. The image has been found in Ancient Egyptian artifacts and in Mesopotamia of a big cat and snake combination creature – long snake neck and lion or leopard head and body, with some variations in design among the images found.
There were photos of the artifacts and other ancient depictions, and also quite a few artists' renderings on Deviant Art and other places too.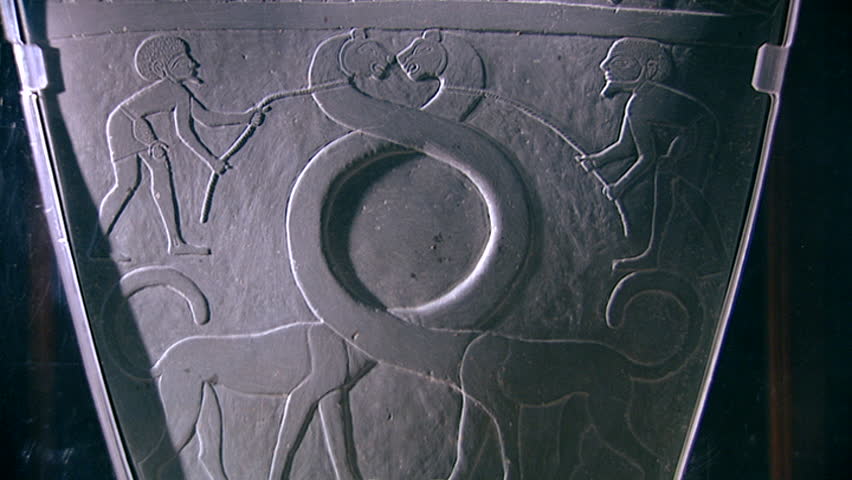 According to what I read, experts aren't sure exactly what it was meant for – the representations are old and there is no explanation accompanying them, so it is guesswork about the purpose of the creature.
I did some sketches to figure out my version and roughed-out the structure of the armature. It was to be done using Sculpey which is a polymer clay that you bake in the oven.
I used steel wire to make a basic structure then wrapped it with about an entire roll of aluminium foil to bulk it up and get the basic shape built. It needed to be pretty close to actual size and shape as you don't want to have very thick and/or uneven coverage of the clay. Optimum is about 1/4 inch thick.
I started to think about how to do the details – I wanted to make scales. I looked at photos of cobras (very Egyptian!) and their scales look just like sunflower seeds! So I bought a bag of sunflower seeds and sorted through the entire bag, I looked at EVERY seed, to find the perfect one.  Then I made a mold by pressing it into a disk of air-drying clay. All my scales would now be perfectly uniform and the proper profile.
When I was ready to sculpt I started with the basic creature shape getting the profile right and building up muscle. Then I did the leopard head. For the ears, to make sure I didn't break them off later, I used small bits of flexible metal mesh, made them the exact shape I wanted then covered with a thin layer of clay.
Then I carried on with attaching the scales, ONE AT A TIME. It looked awesome and just like cobra scales! I did the initial patch on the back… later I went back and added more to chest, and patches on the tail and neck.
I also wanted to build the Ancient Egyptian jewelry separately and attach it to the finished animal, so that it looked worn instead of a solid part of the sculpture. I went and bought coloured Sculpey – turquoise, red, gold, blue and black.
I used the flexible metal mesh to build the collar and head-dress – they needed the interior structure and had to support the weight of the clay. One piece of mesh cut and then folded and/or twisted into shape that was then covered with the gold clay very thinly. Then I rolled and cut all the teeny tiny rectangles in the coloured clay to inlay, and create the designs. Oy, I do like to make things difficult for myself! I also used real beads and one small lapis disc to make a scarab on the collar.
I was using King Tut's mask as my inspiration so… I wanted to do the crown of the combined kingdoms which has the Vulture and the Cobra on it.  Teeny tiny little Vulture and Cobra heads, on the forehead of the Serpopard. So I twisted up some craft wire as they needed to be reinforced to prevent breaking off later, then covered and shaped them.  My hands are not designed to work on this small a scale! But, I think they turned out pretty cool!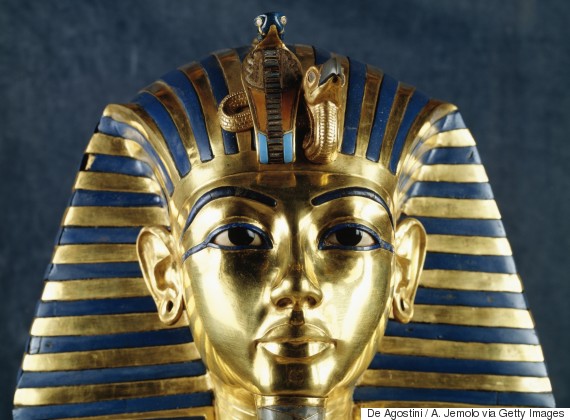 I had bought a board to use as a base for it, so I rolled out all my leftover gold clay, and enough of the flesh coloured to fill the board. It looks quite cool, like sand, so I left it as is and didn't paint it.
I attached the jewelry and checked it over for flaws, mounted on the board and then into the oven to bake!
I spent about 3 hours building the armature at home, 11 hours plus on it at school, then brought it home again and spent 16 more hours on it which included the baking time. After it cooled (and I ate dinner) I started the painting. I did a double layer of white as a primer over the creature's body, and then mixed up a cat body colour base and a base colour for the scales and applied them. That was all I managed before heading to bed.
I had to take it back to school and finish the painting there, and handed it in after spending almost 4 more hours doing the final painting. It was graded (don't know what I got yet) and I did the paperwork to enter it in the end of year Juried Art Show, and left it with the instructor.
I'm really REALLY pleased with how it turned out and I put it in the show marked For Sale.