And… here we are. 61 days since the pandemic was declared and 54 that I've been in self-isolation.
So how is it going for you? I'm still good. Turning to jelly from lack of exercise but otherwise fine.
I now have a selection of masks. One for going where there might be people. Another couple for in the house (to protect myself from the roommate AND the spray disinfectants I'm using every single time I leave my room) and one I use to run down to the mailbox or dumpster.
My going out mask is from a friend – it is fabric and has a double layer so filters can be inserted. I put ties on it as the ear elastics weren't holding it to my face properly, and also attached the metal nose piece from one of my paper masks to it. Fits very comfortably, and firmly, now.
I was finally able to order groceries for pick-up from the supermarket. They had just extended their hours when I happened to be randomly checking the websites and there was a time slot open – it is 9-10 p.m. on Saturday. So I can now get some meat, a few fresh vegetables, some "good" cheeses,  pesto and other items I can't get at the drug store up the block; they cater to students being right across the street from the campus of a college and a university – so, while I can get eggs, cream, butter and a few other things (when they are in stock,) it doesn't provide me with everything I need or want.
Granted going out that late will be a challenge – I go to bed around 9:30! But I will deal with it. I've got the college parking lot pretty much to myself!
I've been doing all my laundry by hand in my room. I have no desire to go upstairs to use the washer/dryer as they are right outside the roommate's door. The other three that live here have gone home for the summer, and the two of us are the only ones here. She works in a long term care facility. She mentioned to me in passing about three weeks ago that a staff member had tested positive. She takes no precautions coming home from work. I don't have enough disinfectant to deal with two flights of stairs, two landings, and the machines.
I had a laundry line and clothes pins from my adventures last year, so have rigged up the line in my shower stall, and things dry pretty fast as there is a heat vent in the ceiling of the bathroom. And frankly, it gives me something to do every day or two.
Final grades were posted for the year on April 28th.  I've got no issues. GPA is 5.0 again. Got 100% in Painting IV, 99% in Mass Extinctions, 98% in Art Survey II, 97% in Fabrication Studio II and 95% in Ethics.
I've been working on scholarship applications and got one sent off. Have a couple others involving reading and writing to work on.
I finished reading a book by Jerry Saltz (senior art critic at New York magazine and 2018 Pulitzer Prize winner for Criticism) called How To Be An Artist. Was very good. To the point and entertaining at the same time. He even includes exercises that you can do to work on specific skills and develop your own vision. (Photo from his Twitter account)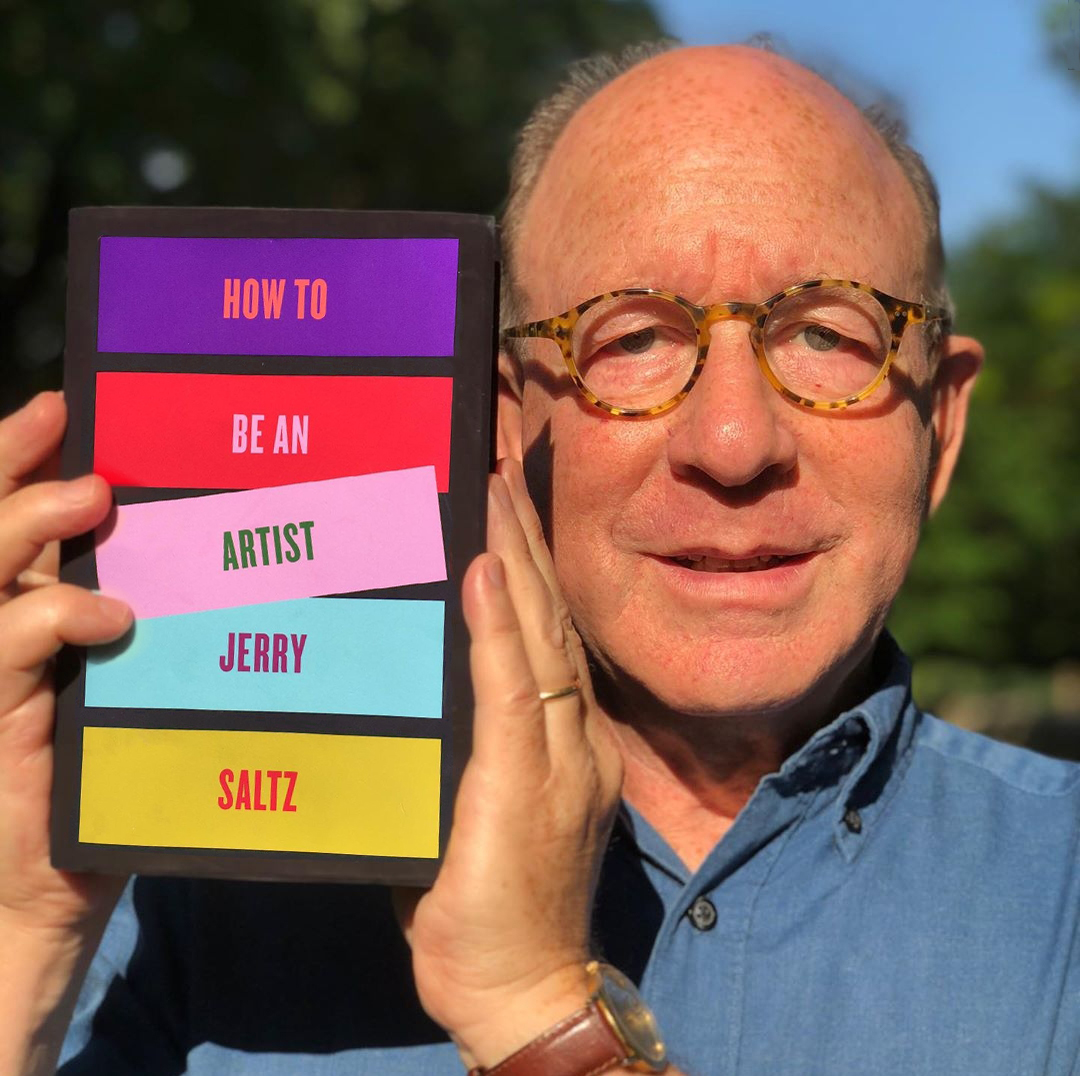 Started working on a painting project. Going to be a series of smaller paintings in sets – diptychs, triptychs, etc. all the same theme and mediums. The plan right now is to keep them in the same style but that may morph as I work through the whole 35 of them!
This is the first triptych – might be done, or not. Haven't decided. But I was pleased with how they turned out. They are all on 4×6″ canvas board, in acrylic and alcohol ink.
I've got them where I can see them and think about whether I am going to add to them.  My original plan did include more, but not sure if I like them better as is. I've printed off copies of them to play around on to see what they will look like.
I like doing small work and what I have available to paint on is mostly small. 2×3″ up to 8×10″, and just one 12×16″. I plan to paint them all, starting with the smallest, so I've primed them with several layers of gesso.
I've spent the last two days making lists of subjects to paint, researching and planning colours, etc. And then sorting into the groupings I want to create. Also matching background colours to subjects. I don't want any backgrounds to be the same, they all have to be different. As all my yellow artists paints are in my locker on campus, I will have to improvise with that colour.
Next year is thesis year… this project could tie into that. Thirty-five paintings would definitely be a start for the year end show! Hmm… will ponder and write some ideas down for that.
Stay safe everyone.